FCA
Fellowship of Christian Athletes
Shelby Bowman- Sponsor
Ryne Bivens- Sponsor
Description:
FCA is a Christian sports ministry that focuses on young athletes coming together to learn how to play their sports with a Christian attitude through the word of God. Though athletes are the market for FCA, all students are welcome.
Activities:
FCA meets on Tuesday mornings at 7:20 for Bible devotions and breakfast in Coach Fitch's room.
How do I join?
Everyone is invited. You do not have to sign up to come to the meetings or be an athlete to be involved. Just show up Tuesday mornings at 7:20.
How much does it cost?
There is no cost to join.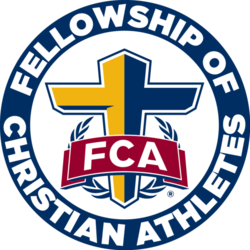 "He giveth power to the faint; and to them that have no might he increaseth strength. Even the youths shall faint and be weary, and the young men shall utterly fall: But they that wait upon the Lord shall renew their strength; they shall mount up with wings as eagles; they shall run, and not be weary; and they shall walk, and not faint."
Isaiah 40:29-31