Enjoying the Henderson County Varsity Basketball Tournament going on this week at Bargerton Elementary School.
Mr. Danny Beecham, Director of Schools, proudly announces Dr. Janet Hays, as the Supervisor of the Year. "Hello, I'm Dr. Janet Hays, and my life has been a wonderful journey of love, family, and a deep commitment to education. For the past 39 years, I've had the privilege of sharing my life with my wonderful husband, Zachary, raising two incredible children, Brittany and Andrew, and experiencing the unparalleled joy of being a grandmother to my precious granddaughter, Finley. My educational journey began at Jackson State Community College and then finished (for now) at Freed Hardeman University, where I pursued my passion for learning and earned my Doctorate of Education. It was during those early years that I discovered my calling to make a positive impact on the lives of students. The knowledge and experiences gained at Jackson State and Freed Hardeman laid the foundation for a fulfilling career in education. Currently, I proudly serve the Henderson County School District as the Supervisor of Instruction. This role allows me to contribute to the development and enhancement of educational programs, ensuring that every student has access to quality learning experiences. I am deeply invested in creating a supportive and inspiring environment for both educators and students, fostering a love for learning that extends beyond the classroom. As I reflect on my journey, I am grateful for the opportunities to learn, grow, and contribute to the world of education. The pursuit of knowledge and the desire to inspire others continue to drive my professional and personal life. I look forward to the chapters that lie ahead, filled with new opportunities to make a difference and leave a lasting legacy in the lives of those I have the privilege to touch through my work and personal relationships."
These Henderson County School nurses attended the TN Association of School Nurses annual conference in Franklin for two days this week. We are thankful for each of our nurses in our school district! 🩺 Left to Right- Lydia Vaughn (South Haven), Shonna Lindsey (LHS), Christy Martin (South Side), and Kelley Baldwin (Beaver).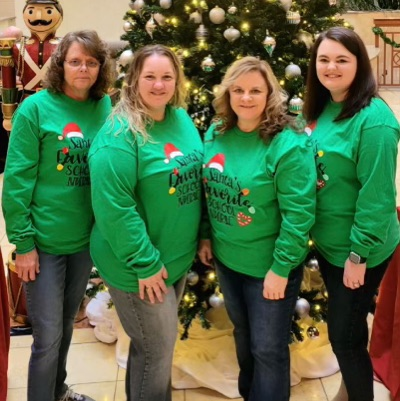 It's DECEMBER 1st and the Grinch has already visited the Pre-K class at Pin Oak Elementary this morning!!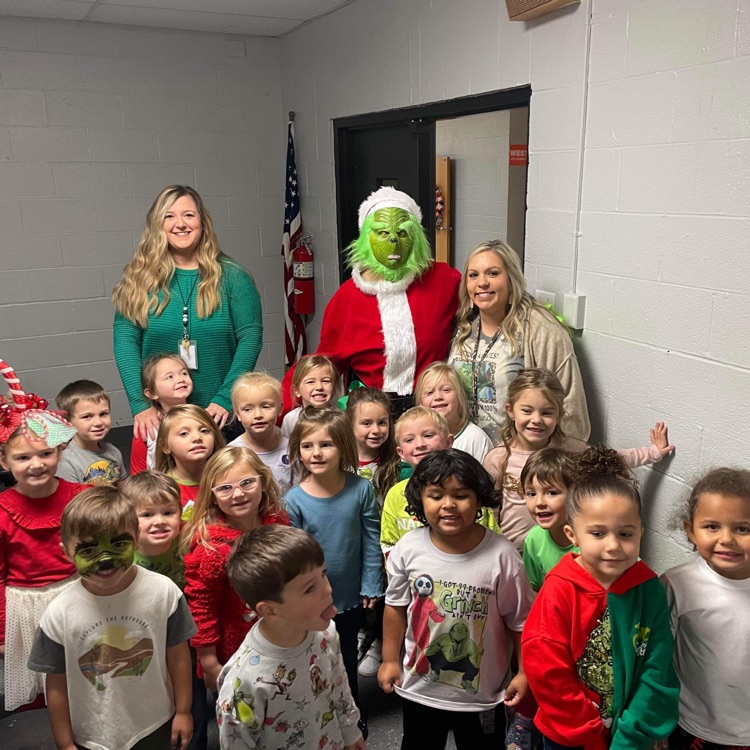 Mr. Danny Beecham, Director of Schools, proudly announces Steve Lindsey, Principal of Lexington High School, as the Principal of the Year. "My name is Steve Lindsey, and it is a privilege and honor to be the Principal of Lexington High School. Lexington is my hometown, and I received my Bachelor's degree in Physical Education and Master's in Administration and Supervision from the University of Tennessee at Martin. This will be my 35th year in education, and all but 4 of those years have been at my alma mater, LHS. These past 35 years in education have allowed me to develop many relationships, whether with students or staff members, that I will cherish for the remainder of my career. Of those 35 years, I have experienced the role of classroom teacher, coach, Assistant Principal, Athletic Director, and Principal. Due to the commitment of our students and staff, Lexington High School has developed into a school that is known for its academic excellence, which I am very proud of. Over my tenure as Principal at Lexington High School, I have found competing in the classroom just as gratifying as competing on the athletic field. I have been married for 17 years to my wife, Melissa. We have two children, Gretta and Whitney, and three grandchildren, Scarlett, Preston, and Cooper. If I could give one encouraging statement to everyone, it would be "Every day is a great day, some just a little better than others." Thanks to all that have allowed me to have a successful career. Thank you."
Mr. Danny Beecham, Director of Schools, proudly announces Shelby Bowman, a World and United States History teacher at Lexington High School, as the High School Teacher of the Year. "I am Shelby Bowman, and I am grateful to be a World and United States History teacher and the Girls' Basketball coach at Lexington High School. I also co-sponsor the LHS chapter of the Fellowship of Christian Athletes. I received a Bachelor's Degree in History and a Masters Degree in Sports Management from Union University. I am certified to teach World and U.S. History and U.S. Government. I have taught for seven years, with the last four being at LHS. I am deeply committed to teaching history to high school students. I love to connect history to events happening today and to give a voice to those who have come before us. It is an incredible feeling to watch students fully understand how history ties together and gives us the world we live in today. I have been married for five years to my husband, Brandon, and I have the sweetest Basset Hound named Kobe. I love to read, play golf, attend sporting events, travel, and spend time with my family."
Mr. Danny Beecham, Director of Schools, proudly announces the Fifth-Eighth Grade Teacher of the Year as Katie Hehe, a fifth-grade teacher at South Haven Elementary School. "My name is Mrs. Katie Hehe, and I am currently in my fifth year as a South Haven Hawk! I am from Scotts Hill, Tennessee. I obtained my Bachelor's Degree in Elementary Education from The University of Tennessee at Martin. Since then, I have been a dedicated teacher at South Haven, specializing in English language arts for fifth grade. One of my greatest passions is building connections and fostering relationships with my students. I believe that by establishing a strong bond, I can better understand their individual needs and provide them with a supportive learning environment. Each day, I strive to present them with engaging and meaningful academic challenges, as I find immense joy in witnessing their growth and development throughout the year. I've been happily married to my husband, Payton, for five years. We're blessed with two wonderful children, Liam and Vivi Kate. Liam attends South Haven Elementary, while Vivi Kate attends Imagination Station Learning Center. In my spare time, I enjoy traveling and spending quality time with my family."
Mr. Danny Beecham, Director of Schools, proudly announces the Pre-K - Fourth Grade Teacher of the Year as Samantha Ujcich, a fourth-grade teacher at South Haven Elementary School. "My name is Ms. Samantha Ujcich. I currently teach fourth-grade English and Social Studies at South Haven Elementary School! I am proud to be a part of the South Haven team and Henderson County community. I obtained my Bachelor of Science in Elementary Education with K-5 licensure and an endorsement in Early Childhood Education from Union University. I grew up in Northern Henderson County on a family farm with my younger sister, Cadey, and parents, Tim and Brandy McDaniel. I attended Bargerton Grammar School and Lexington High School and continued my post-secondary education at Union University as a student-athlete. Softball has been a vital part of my life. It taught me the necessity of teamwork and clear communication. During my time at Union, I trained to become an effective educator for my students, learning that it is my sincere calling to teach and empower the whole child. Coming from a lineage of educators, I understand the importance of fostering all students' long-term academic and social-emotional growth. The support I receive from my husband, Joseph, and our families makes it possible to commit myself to being a lifelong learner and educator. I strive to develop positive-growth mindsets with students while also learning from them. I am grateful to have the opportunity to return to Henderson County and help shape students as I once was. Go Hawks!"
A very big thank you to these three wonderful media team members at Scotts Hill Elementary! Thank you for all you do!!
Wishing each of you a wonderful Thanksgiving holiday! 🦃
Due to excessive sickness among our students, faculty, and staff, Henderson County Schools will be closed tomorrow, Tuesday, November 21, 2023. Have a good Thanksgiving weekend.
Today is Day FIVE of celebrating Scotts Hill Elementary School!! We hope you have enjoyed the week!!
The Henderson County Board of Education was honored to be a part of the Henderson County Chamber of Commerce's Leadership Education Day. Members of the current Leadership Class of Henderson County visited the HCBOE this Thursday. Mr. Danny Beecham, Director of Schools, along with Dr.Janet Hays, Mrs. Stacey Valle, and Mr. Brandon Rainey, shared updates in the school system and discussed the of 3rd Grade Literacy and Retention Law, strategies being utilized by our educators with 3rd and 4th-grade students identified targeted for direct intervention, the Innovative Schools Model grant, the TISA (Tennessee Investment in Student Achievement) school funding model in Tennessee, and how local, state, and federal monies are allocated for our system. We appreciate the Henderson County Chamber of Commerce for such a great day of round table discussions with leaders in our community.
Yesterday was retirement day for Mrs. Valerie Rhodes! She is locking the door for the last time after 16.5 years of dedicated service to the Henderson County Board of Education. Thank you Valerie, you will be missed!
Day four of spotlighting a wonderful school STAFF!! Thank you for all you do for Scotts Hill Elementary!! You are incredible!
Today is DAY THREE of CELEBRATING the wonderful FACULTY at Scotts Hill Elementary School!! Enjoy this group of wonderful people!!
Today we CELEBRATE day TWO of SCOTTS HILL ELEMENTARY!! We celebrate the history and some fun facts about the school. Below is a brief history from the Scotts Hill Elementary School Media Team: Scotts Hill's first effort toward a public school came in 1870. In that year, Samuel P. Winston came in to become their first teacher. The first schoolhouse - a small log structure - was built "in the Jess Holmes woods" just back of the present gymnasium. In the late 1880's a frame building was erected, with two large classrooms which doubled as an auditorium. This house stood about where the gymnasium and front campus entrance are now. This larger building was filled with students in a year or so, making two and then three teachers necessary. By 1895, a larger school building was promoted to house a "college" department. The opening of the larger school was in September 1896. It was located a few hundred yards from the old campus, to the northeast - on what became known as "College Ridge." By 1917, a new "red brick" building was ready for use back on the old campus. It contained three classrooms with moveable partitions between them to provide an auditorium. Ira C. Powers was named Principal, and A. C. Tarlton became Principal of the grade school. By 1925-26, an eight-classroom concrete building was ready for occupancy. Upper classes moved to it, with the brick building still used for lower grades, for the new cafeteria, and for agriculture classes a little later. Senior high school status was approved by our county boards of education and by state authorities to be effective at the start of school in the Fall of 1927. Perry Murphy came back as Principal. The first four-year class graduated on March 29, 1929.
Lexington High School students recently visited Jackson State Community College as part of LEAP (Learn and Earn Advancement Program) to explore opportunities in the AMT (Advanced Maintenance Technician) Program. Students in this program receive an Associate of Applied Science (AAS) in Engineering Systems Technology with a concentration in Multi-Skilled Maintenance Technician. This co-op program allows students to attend class 2 days per week and work with local industry partners for the remainder of the week. The group was hosted by current AMT students and LHS alumni Levi Mason and Daniel Powers. The Innovative School Models Grant proudly supports LEAP at both Lexington and Scotts Hill High School!
The "Grind at the Hill" is busy at work! This is Scotts Hill High School's Machining class under the direction of Mr. Tanner Webb. They are busy building signs for LEAP (Learn and Earn Advancement Program) which is our new district-wide Career Development program for high school students in Henderson County. This school enterprise teaches our students the necessary skills to operate a CNC machine, to weld, and to paint custom ordered products. For a limited time, they are also making Christmas ornaments. Big things happening in career readiness throughout Henderson County Schools!
Today begins the celebration of SCOTTS HILL ELEMENTARY SCHOOL... Home of the Lions!! Scotts Hill Elementary School was established in 1870!!! This is our ninth and final school to spotlight!! We hope you enjoy the rich history and spirit of this school!